Do You Need to encrypt your emails?
Whenever you send or receive an email, you must connect through the Internet to an email service provider/email server. The reality is most email service providers do not implement any security measures or privacy protection, whatsoever. As a result, everything you send to or receive from your email service provider is not secure. This includes sensitive information such as your username, password, email messages, and shared file attachments.
As a healthcare provider, you must implement proper safeguards in your email to secure Protected Health Information (PHI).  How can you preserve the integrity of this confidential information? Data encryption is one the best security practices to safeguard data that is meant to be kept private.
Is your Confidential Data Secure?
It gets worse! Most email service providers connect to other email service providers without any encryption.
If the other party is not using a secure email service, their emails can also be compromised. So, the emails you send and receive through the internet are wide open, not secured, and can be easily intercepted by thieves. This is one of the main causes for identity theft, spam, and security breaches.
What is Data Encryption?
Did you know that the leading cause of data breaches in the healthcare industry are hacking/IT incidents? Additionally, aside from laptop loss, improperly encrypted data is the most common type of data breach. Security threats within healthcare organizations are skyrocketing to unprecedented heights, making data security a crucial aspect of successful practice management. The most effective way to secure sensitive information and avoid a data breach is through data encryption.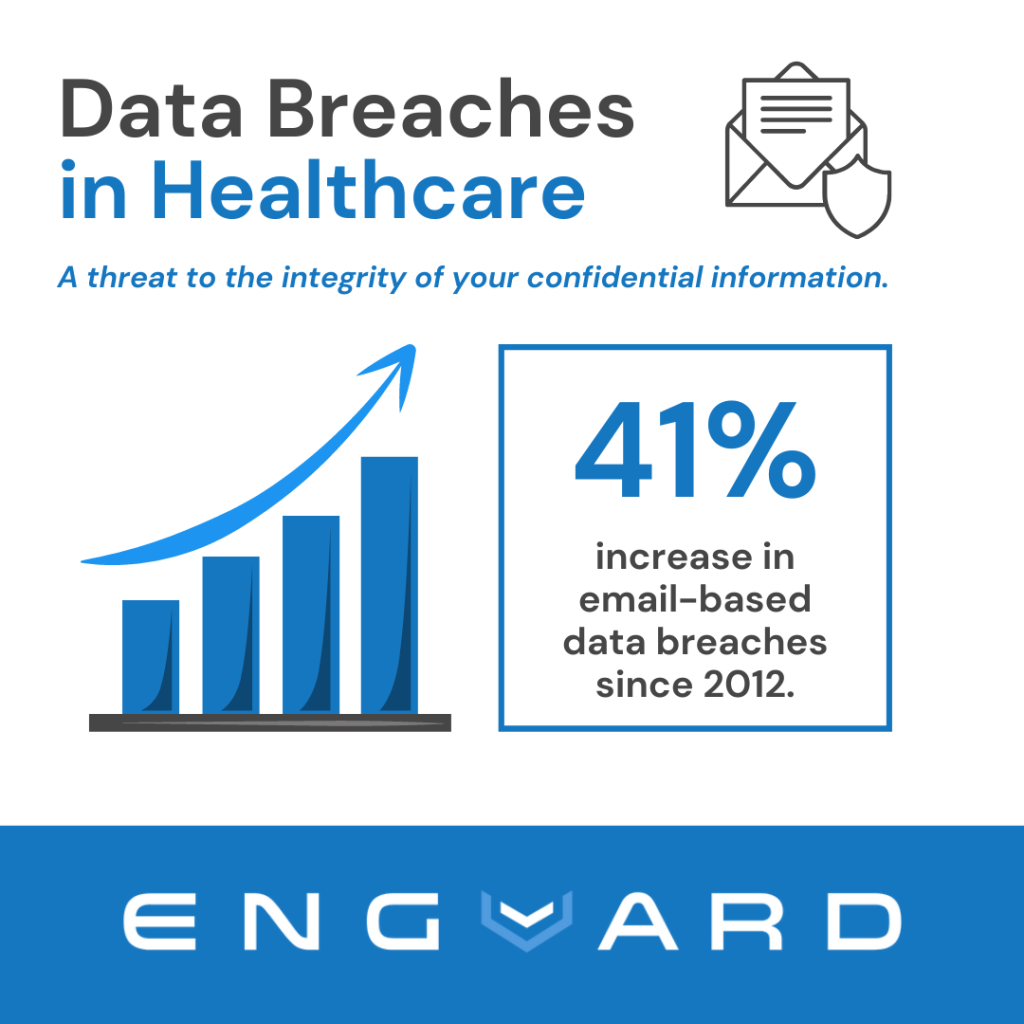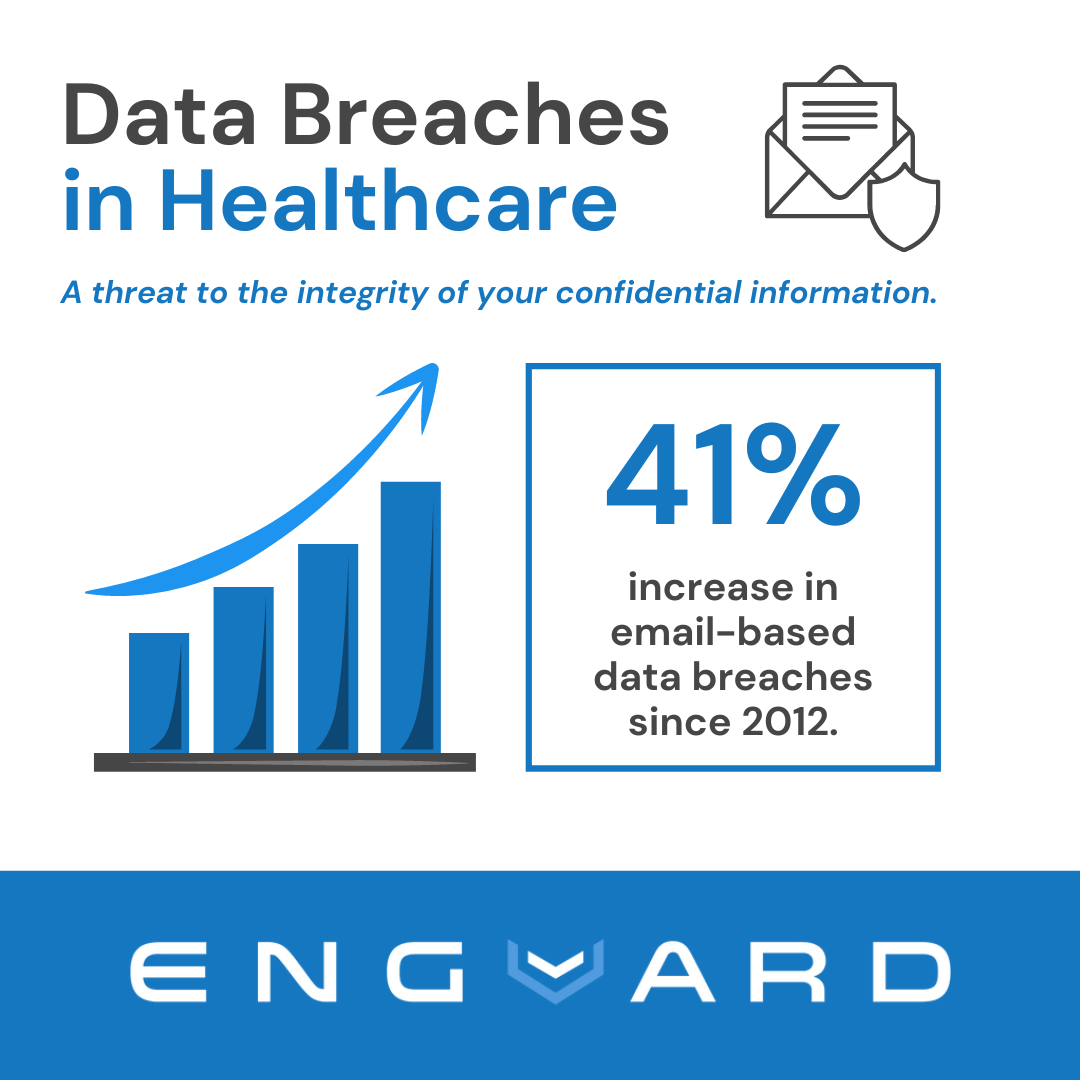 How does it Work?
Data encryption is an advanced security practice used to anonymize information that might be valuable to a hacker. Encryption is the best way to secure data because it PHI look like nonsense.
Using a complex algorithm, data encryption erases all identifiable factors associated with PHI. Identifiable factors attach a patient's medical information to them. A few examples include a patient's name, SSN, and phone number.
Unlike alternative security measures, like encoding data, encryption is far more effective as it cannot be reversed unless you have the decryption key. A strong encryption system constantly revolves the decryption keys to ensure data is constantly secured.
End-to-End Data Encryption
At Enterprise Guardian, our team is dedicated to proving our clients with the most advanced security measures for their confidential information. We encrypt your confidential data to ensure that it is safe from unauthorized access.
What is End-to-End Data Encryption?
Data in transit is data that is moving, or being sent between multiple parties.
This means that it is traveling across the internet or on an unsecure network. This could be information collected from a website, transmitted through an email, or sent as a text message.
HIPAA Compliance & End-to-End Data Encryption
Encrypting data in transit is required under The HIPAA Security Rule because it is traveling across multiple unsecured networks. As such, it is at high risk for a data breach.
End-to-end data encryption is the best way to keep data secure. This security method safeguards data while it is in transit from one device to another. The encrypted data remains secure even when it passes through network servers. Therefore, data integrity is maintained once it is sent through to another device.
EnGuard HIPAA Email Encryption
Enterprise Guardian (EnGuard) is a Business Class, HIPAA Compliant Email hosting company. We encrypt all data in transit between our servers, your computers, and mobile devices.
We also encrypt our Webmail Interface so you can securely access your email anywhere using a web browser. Any sensitive information you send to or receive from our email service is 100% secure. Just imagine your organization in a completely secure, Private Cloud.
The EnGuard Experience
All email communications within your organization and between tens of thousands of EnGuard customers are 100% secure.
Our user experience for sending and receiving emails is seamless. It does not require any additional steps, plug-ins or certificates to install, to encrypt or decrypt messages. All security is automatically handled by our servers. In other words, you can use email as you normally do, in a completely secure environment.
Data Encryption Requirements Under HIPAA
HIPAA requires all Covered Entities (Healthcare Professionals) to use encryption to transmit data over the internet. The current email encryption standard is Transport Layer Security (TLS) for data in-transit. This ensures that email servers transmit data back and forth with users and other servers securely over an encrypted connection. When both email servers use TLS, the user experience between the sender and recipient is seamless.
Patients are not covered entities. As such, they are allowed to use any email service they want, even if it's their personal (unsecured) email address.
Covered entities cannot legally force patients to use secure email to communicate with them. However, HIPAA requires that covered entities receive incoming emails securely. We protect all incoming emails as soon as they arrive at our servers and deliver those messages to you securely.
If the recipient does not have a secure email, we offer End-to-End Message Encryption. This will deliver your email and attachments to them through our Secure Messaging System. All you need to do is type the word secure into your subject box and we do the rest.
The recipient can use our Secure Messaging System to send secure messages and attachments back to you. You can also send secure attachments up to 2GB to anyone using our Secure File Link feature.
Finally, our Data Loss Prevention (DLP) system scans all outgoing emails (sent outside our secure network). This includes attachments and sensitive information such as social security numbers, credit card numbers, etc.
Our system can detect any sensitive information that you are sending in clear text. First, it will quarantine the email. Then, it will give you options to: send as-is or send encrypted. You no longer have to worry about employees leaking sensitive information through email again!
Data FAQs
Q, What does reset encrypted data mean?
Resetting encrypted data is the process of removing all data from an encrypted device/server. Logs, records, and any other type of data is wiped from the hardware or server. In addition, resetting encrypted data also deactivates the decryption key needed to reverse any of the encrypted data. The most common reasons for resetting encrypted data include forgotten login in credentials, hacked or compromised data, and device loss or theft.
Q. What is end-to-end encrypted data?
End-to-end encrypted data is data that is secured throughout its entire journey on a telecommunication platform. Under The HIPAA Security Rule, encryption requirements are based upon whether the data is moving or at rest. Data that is moving is in transit, traveling across the internet or unsecured network server. Data at rest, on the other hand, is not in motion as it is stored on a laptop, cell phone, or in a Cloud-based storage system. End-to-end data encryption is a standard under HIPAA law for data in transit because it strips PHI of all identifiable factors while it travels from server to server.
Q. How to encrypt data?
Encrypting data is one the best security practices for HIPAA covered entities who handle PHI. Working with a HIPAA compliant, data security service is the most effective way to ensure your patient's medical information is properly safeguarded. Your confidential information can be encrypted on a network server or piece of hardware, like a laptop. Companies that specialize in HIPAA compliant data security will take this complex burden off your hands so you can rest assured that information meant to be kept private stays that way.
Q. Will resetting encrypted data delete messages?
Resetting data erases everything from your device/server. So, yes, resetting encrypted data will technically erase anything you have stored there. However, if you have a data back up plan in place, you can access your encrypted data again, but you will need the unique decryption key to do so. The deception key is the only way to reverse encrypted data. Without the proper decryption key, there is no way ever access that data again.
Q. What are HIPAA encryption requirements?
HIPAA laws recommend that Covered Entities (CEs) and Business Associates (BAs) utilize end-to-end data encryption for data in transit and encryption technology for data at rest. Encryption is addressable under HIPAA, meaning that you do not need to use this method exclusively to safeguard PHI. You do, however, need to present and justify an alternative methodology. Implementing proper safeguards to protect confidential information is required, but utilizing encryption as a means of doing so is not. It is important to note that research shows encryption methods are the most effective way to secure PHI. In fact, encryption has been estimated to keep data secure for 1.5 million years.